Weekend Projects
Replacing the Motor in My Chevy Pickup


Yes, our project this past weekend was replacing the engine in my Chevy. We bought a new motor rebuilt from PAW. Don assembled the new motor without me. I'm sorry I missed that phase of the project now. But he had it ready to go for this weekend. He picked up a cherry picker on the way home on Friday evening, and we got all the prep work done Friday night so we could pull the engine first thing Saturday morning. Our friend Richard came by just in time to help me man the cherry picker while Don guided the motor out. That's when the fun for me began. I got to remove the old motor mounts and replace them with the new ones. That's 6 bolts, three per motor mount, that were really challenging to remove and then replace.

We dropped the new motor in that evening. Just Don and I now. I manned the cherry picker as he guided it on. I don't know how he coaxed it into lining up with the transmission and the motor mounts, but he did.

On Sunday, he found problems with the transmission mounts, but I had plenty to keep me busy in the meantime as you can see from these photos. I rebuilt the cylinder heads, one per day. Here's me with the drill and the steel wire brush, starting on the second head. Behind me is the drill press with another steel wire brush I used to clean each of the valves before I replaced the valve seal.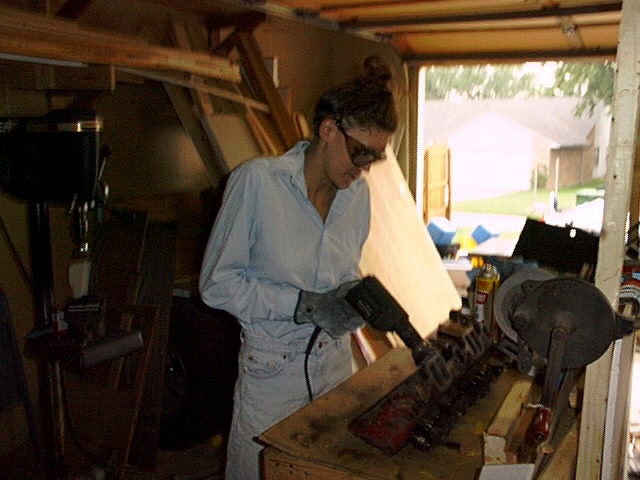 [home] | [Close Up of Head]