You are now entering...
lauraashe.com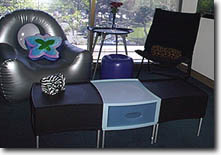 "The Lounge"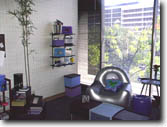 "The 'Cool Stuff'"
Welcome to my online office. The colors and textures are a bit wild, but I have a lot of fun here.

This could be called "The Millennium" office. It contains all the latest trends in fashion from a leopard skin bulletin board to vinyl, inflatable furniture, to an umbra coffee table. And it's just chock full of "Cool Stuff" TM from Target TM .


It seems an indisputable fact that leopard skin is in this spring. You can find leopard skin prints covering just about anything from the more ordinary pillows and throws, to the more abstract picture frames, pens, CD cases, jewelry boxes, daytimers, hangers, and the list goes on.

However, I had to hunt for my 36" X 24" Bengal Tiger print to set off some of my trendy spotted and striped knick-knacks. I finally found what I was looking for at MJDesign. There was only one left after I bought this one, so you'd better hurry!
"The Print"